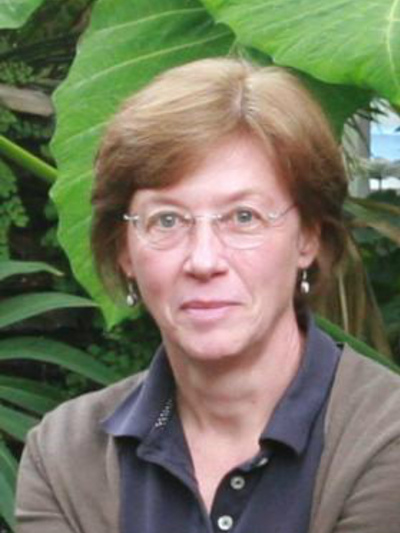 Iris Meier
Professor, Dept. of Molecular Genetics
520 Aronoff Laboratory
318 West 12th Avenue
Columbus, OH
43210
Areas of Expertise
Plant Nuclear Envelope
Nuclear Movement and Positioning
LINC complexes
Education
Ph.D., University of Duesseldorf, Germany, 1987
Current Projects:
Trainee projects in the Meier lab will be in the areas of mRNA export in plants; nuclear pore and nuclear envelope structure and function; nucleocytoplasmic trafficking; and the function of long coiled-coil proteins in plant nuclear and cellular organization.
Five Current Publications:
Zhou X, Graumann K, Evans E and Meier I (2012) Novel plant SUN-KASH bridges are involved in RanGAP anchoring and nuclear shape determination. Journal of Cell Biology 196:203-211.
Meier I (2012) mRNA Export and Sumoylation - Lessons from Plants. BBA Gene Regulatory Mechanisms, in press.
Xu XM, Zhao Q, Rodrigo-Peiris T, Brkljacic J, He CS, Müller S, Meier I. (2008) RanGAP1 is a continuous marker of the Arabidopsis cell division plane. Proc Natl Acad Sci U S A. 105:18637-42.
Xu XM, Meulia T, Meier I. (2007) Anchorage of plant RanGAP to the nuclear envelope involves novel nuclear-pore-associated proteins. Curr Biol. 17:1157-63.
Xu XM, Rose A, Muthuswamy S, Jeong SY, Venkatakrishnan S, Zhao Q, Meier I. (2007) NUCLEAR PORE ANCHOR, the Arabidopsis homolog of Tpr/Mlp1/Mlp2/megator, is involved in mRNA export and SUMO homeostasis and affects diverse aspects of plant development. Plant Cell. 19:1537-48.